The Library Needs Your Help! It's that time of year again, when all library books need to be returned to the library. Please go through your houses this weekend and send overdue library books back to school on Monday. All students who have overdue books have been given overdue slips twice this week to take home. However, we know that sometimes this gets lost in the shuffle, so if you could ask your child over the weekend if they have a book to return, the school librarian would greatly appreciate it. Thank you for all you do and all of your help!!!!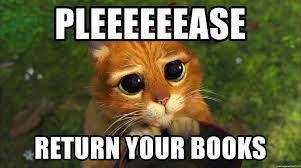 Hello Wrangler Fans, The JH/Y track team has finished their regular season. Those who have reached qualifying marks will have one more chance to show off their skills at the Best of the Best on Tuesday. The HS track team competes at the regional meet on Friday and Saturday right here in Shoshoni!!! We still need some event helpers and hospitality food donations. Shot/Disc weigh in, pole vaulter weigh in, admissions from 12:30-2:30 Friday and 10am-noon Saturday, crock pot of soup, bags of chips, baked goodies, macaroni salad, and fruit salad. Monday, May 10: C day (periods 4-1) Eligibility Warning List comes out. Those with 2 D's and/or 1 F will be notified via email. They have until 3:40pm Wednesday to take a reestablish sheet to Mr. Mills to get off the list. Tuesday, May 11: D day (periods 2-6) JH Track Best of the Best @ Lander at 10am (the bus leaves at 8am) FFA Safety Day Wednesday, May 12: E day (periods 7-4) Seniors Last Day of Secondary Education (8-9:30am checkout and laptop turn-in, 9:30 get cap/gown, 9:45am-12:36pm Grad Practice) Thursday, May 13: F day (periods 5-2) No Events Friday, May 14: Elementary PD Day, No School for PreK-6th grade students HS TK Regional @ Shoshoni at noon Saturday, May 15: HS TK Regional @ Shoshoni at 9am Sunday, May 16: Graduation at 2pm **P.S. Student Laptop Check-In will be on Monday, May 17. Remove all stickers and marks, include your bag and charger Have a great week and GO WRANGLERS!!!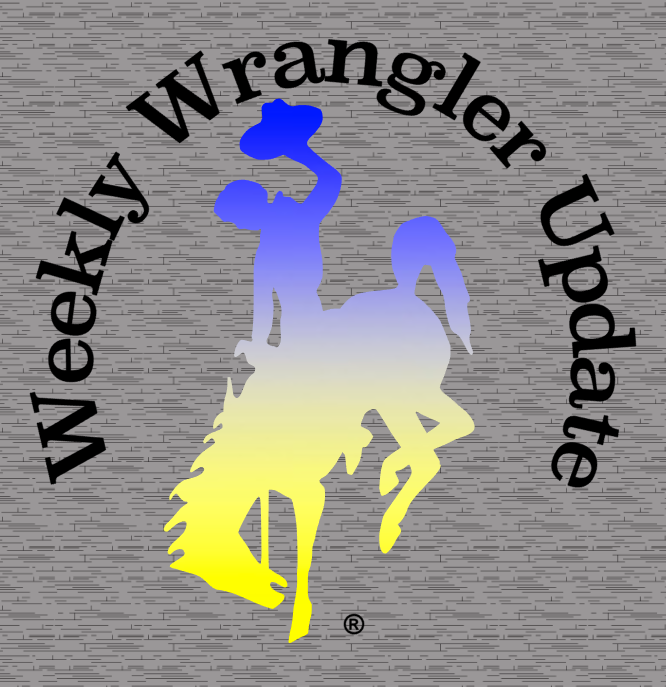 Thank you to Beau Wendling from New York Life for visiting with the seniors regarding the stock market and retirement plans. Your support for Fremont County kids is incredible! Thanks again for taking time out of your schedule to help our seniors as they head out on their own! Mr. Slack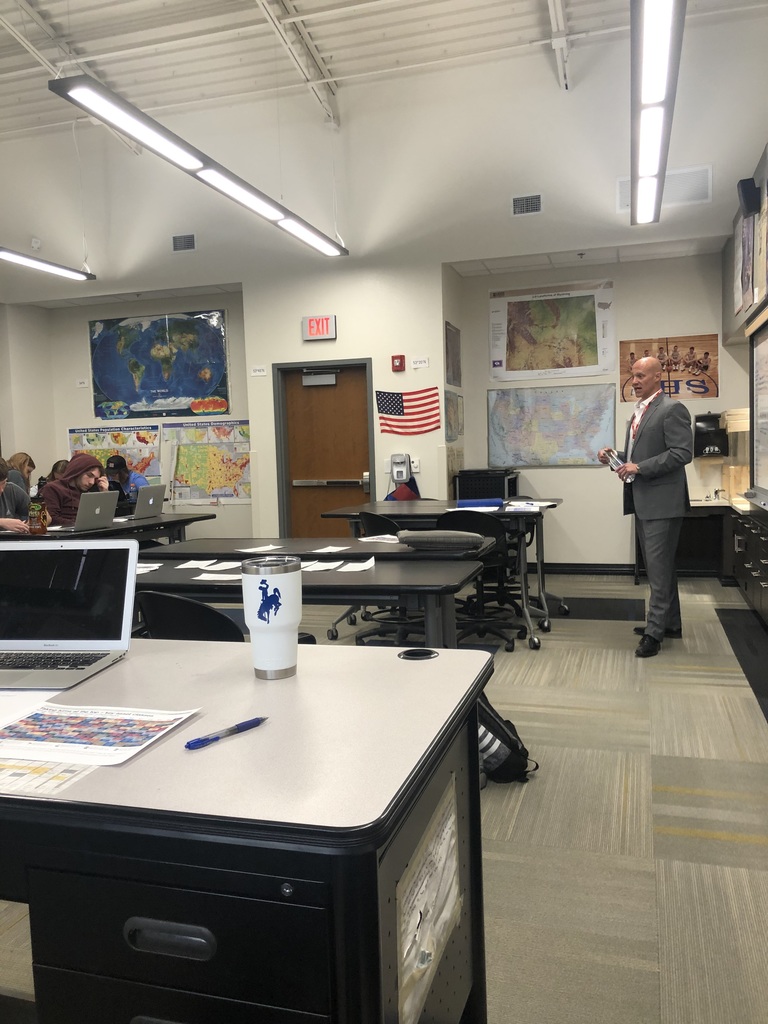 Shoshoni Schools have been granted an exception request to the Statewide Public Health Order #1: Paragraph 5, provisions a through e. The request can be revoked if things change for the worse. Our buses must conform to national transportation standards and requirements. Transportation will still be required to conform to national requirements regarding COVID-19. Starting today, masks will not be required in our schools, anyone and everyone is welcome to continue to wear them, but they are not required in our school due to the exception request. Please respect those that continue to mask as they may have a family member they are trying to protect. This exception request also means that if we have a positive case in school the contact tracing could be far and wide. Remember that! Do your due diligence, continue to stop the spread, stay home when you don't feel well, allow our kids the opportunity to receive instruction in person, and take care of yourself. We have been granted an exception, please respect that it is an exception and can be revoked. We are still working through logistics, if you have a question please call the school.

**Late getting this out. Sorry!!! Hello Wrangler Fans, We have made it to the final week of April!! WyTOPP testing is going on this week and the theme is "We are REaDY to rock the WyTOPP". Notice the RED theme days below: Monday, April 26: B day (periods 6-3) Wear a hat to "Get Your Thinking Cap On" HS Track @ Riverton Twilight at 2pm (the bus leaves at 12:30pm) HS VB end of the season banquet at 5:30pm Tuesday, April 27: C day (periods 4-1) Rock RED clothing...We are REaDY WyTOPP Testing 8am-10:12am: 7th Grade Math, 8th Grade Science, 9th Grade ELA, 10th Grade Math Wednesday, April 28: D day (periods 2-6) How Sweet It Is To ROCK The Test...RED candy will be provided WyTOPP Testing 8am-10:12am: 7th Grade ELA, 8th Grade Math, 9th Grade Writing, 10th Grade ELA Thursday, April 29: E day (periods 7-4) Wear Blue & Gold to show your school spirit!! WyTOPP Testing 8am-10:12am: 7th Grade Writing, 8th Grade ELA, 9th Grade Math, 10th Grade Science Kindergarten Roundup and Screening Friday, April 30: JH/Y Track @ Lander at 9:30am (the bus leaves at 7:30am) Saturday, May 1: HS Track @ Riverton at 9:30am HS PROM 8pm-Midnight After PROM Party from Midnight-5am Have a great week and GO WRANGLERS!!!

Elementary PK-6th grade parents: We want your input! Please take a few minutes to complete this important end-of-the-year survey that will help us to understand your perceptions and gather your feedback to assist in shaping education in our school for 2021-22. This survey will close next week on Monday, April 26th. You are invited to a Title I meeting on Tuesday, April 27th at 3:40 in the board room to review the results of the survey. We greatly appreciate your time and value your input in making Shoshoni Elementary the best it can be! Thank you!!!
https://docs.google.com/forms/d/e/1FAIpQLScpbHeRy-aBKz49GsY5KeWudjB7t3uIThUMulYc1Tar0WPLiA/viewform?gxids=7628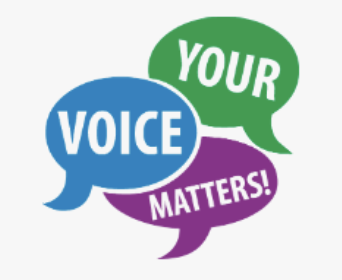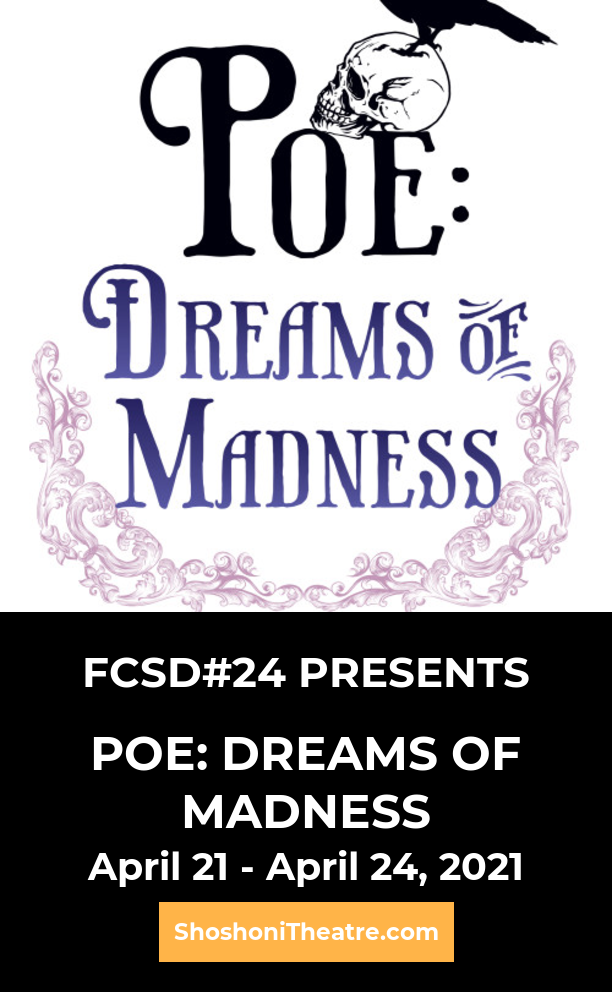 Preschool and Kindergarten registration open now!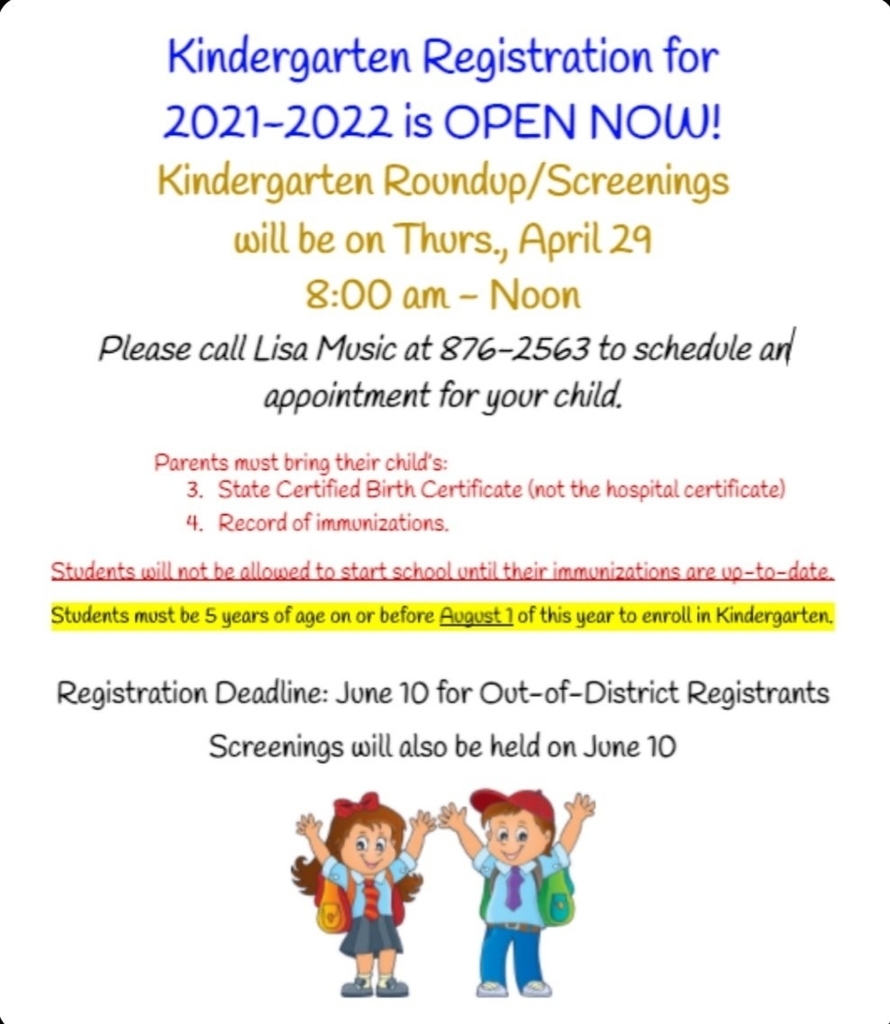 Hello Wrangler Fans, After all the JH/Y and HS track meets were canceled last week due to weather, the "way-too-early" weather report for the coming weekend looks very promising!! Remember that next week is WyTOPP testing!! This week's events follow: Monday, April 19: Staff PD day, No school for PreK-12 Students School Board Meeting at 5:30pm Tuesday, April 20: F day (period 5-2) no events Wednesday, April 21: G day (periods 3-7) no events Thursday, April 22: A day (period 1-5) State Art @ Casper Elementary Virtual Assembly at 3:10pm School Play at 5:30pm Friday, April 23: State Art @ Casper HS Track @ Douglas at 11am (the bus leaves at 8:15am) School Play at 5:30pm Saturday, April 24: State Art @ Casper HS Track @ Kemmerer at 10am (the bus leaves at 5:45am) JH/Y Track @ Meeteetse at 9:30am (the bus leaves at 7am) School Play 5:30pm Have a great week and GO WRANGLERS!!!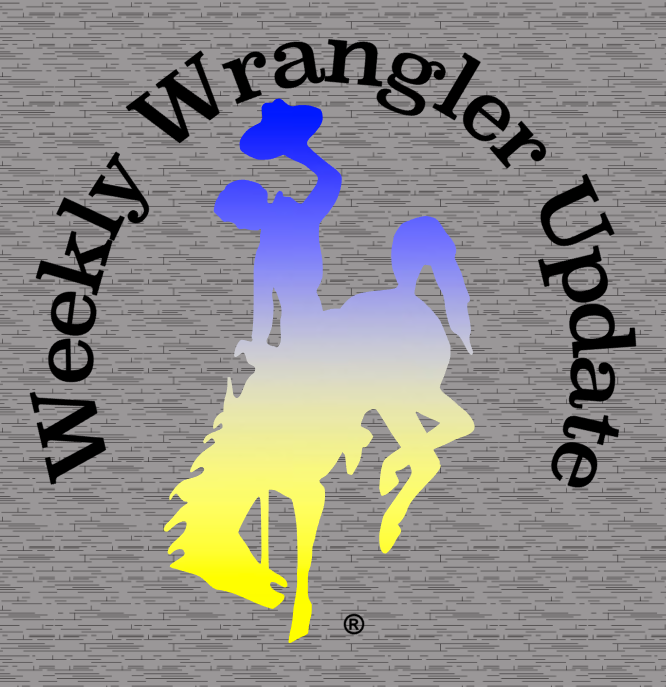 Congratulations Casey Brown! You are the winner of our quilt raffle!! Thank you all for your support!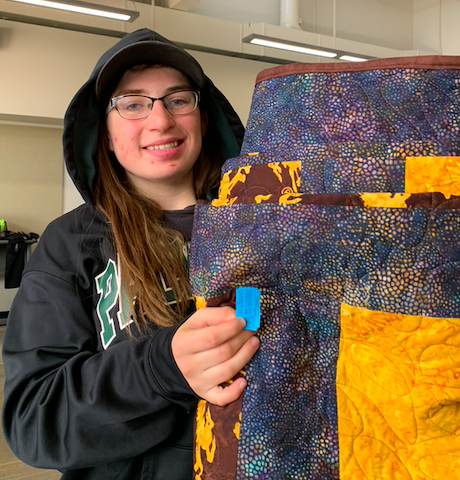 Arty Thursday was celebrated as part of The Week of the Young Child at Shoshoni Early Learning Center. Students enjoyed the story "Ain't Gonna Paint!" by David Catrow. Then they used their fine motor skills to cut out a butterfly, finger painted one half of it, and then folded it to make a butterfly with matching wings. They learned about the mathematical concept of symmetry while enjoying the glitter paint and fun spring art!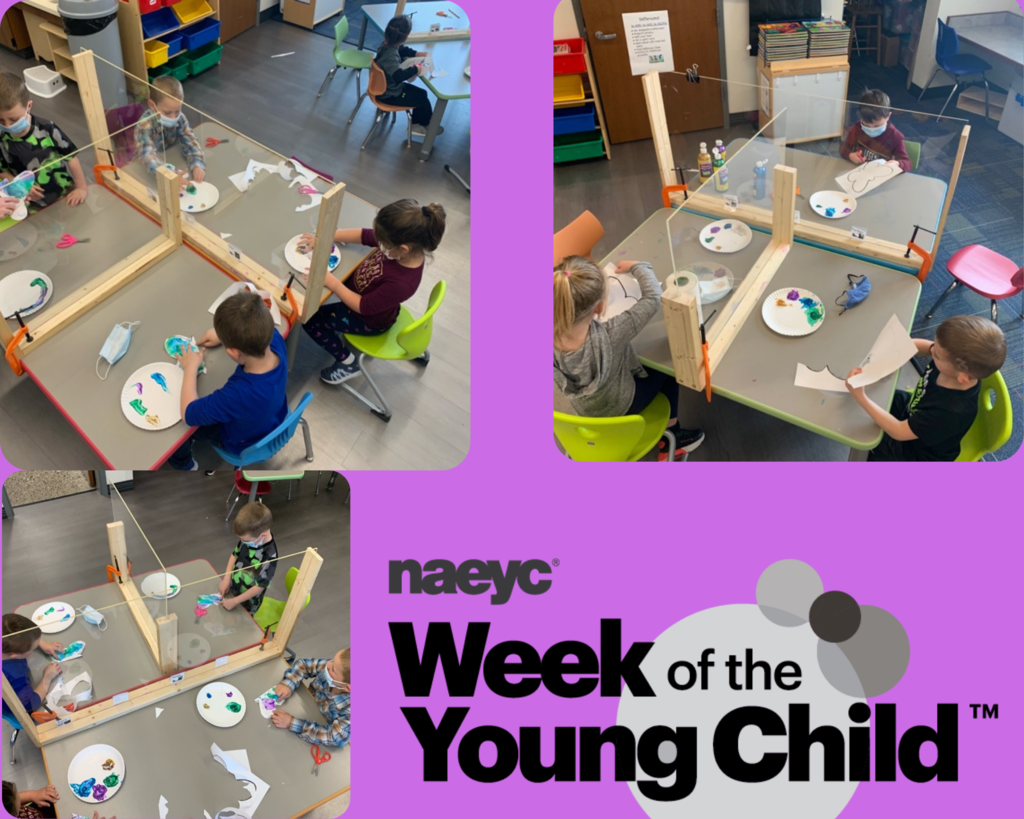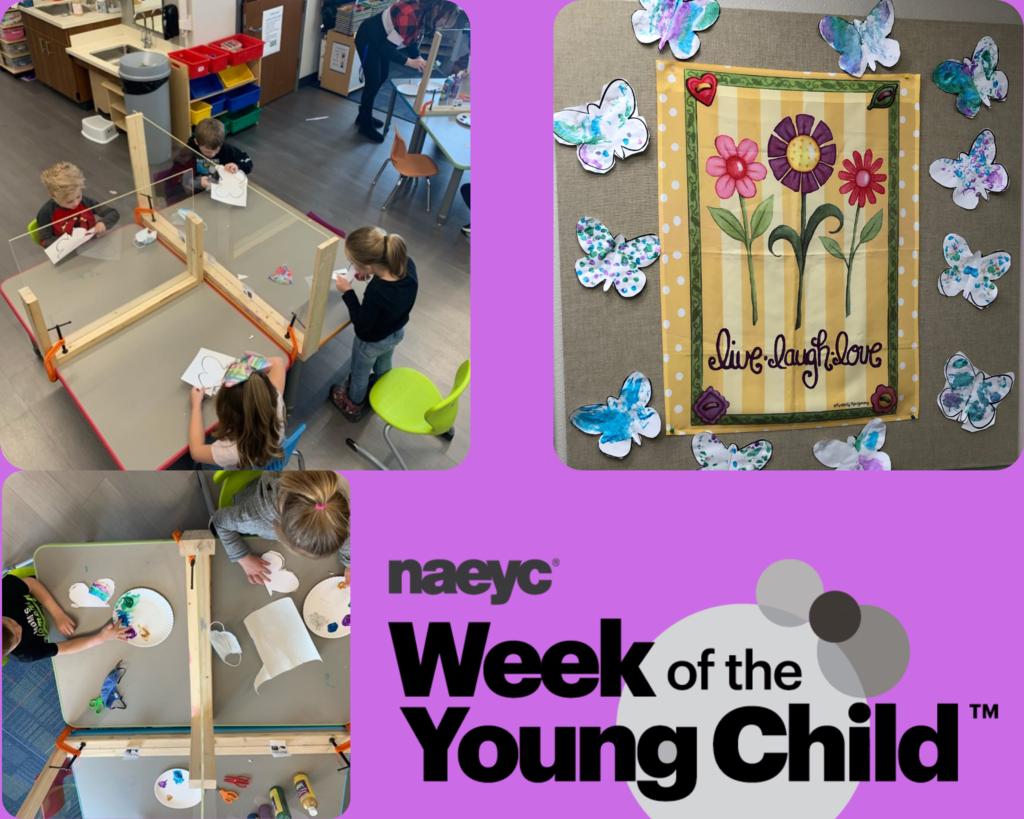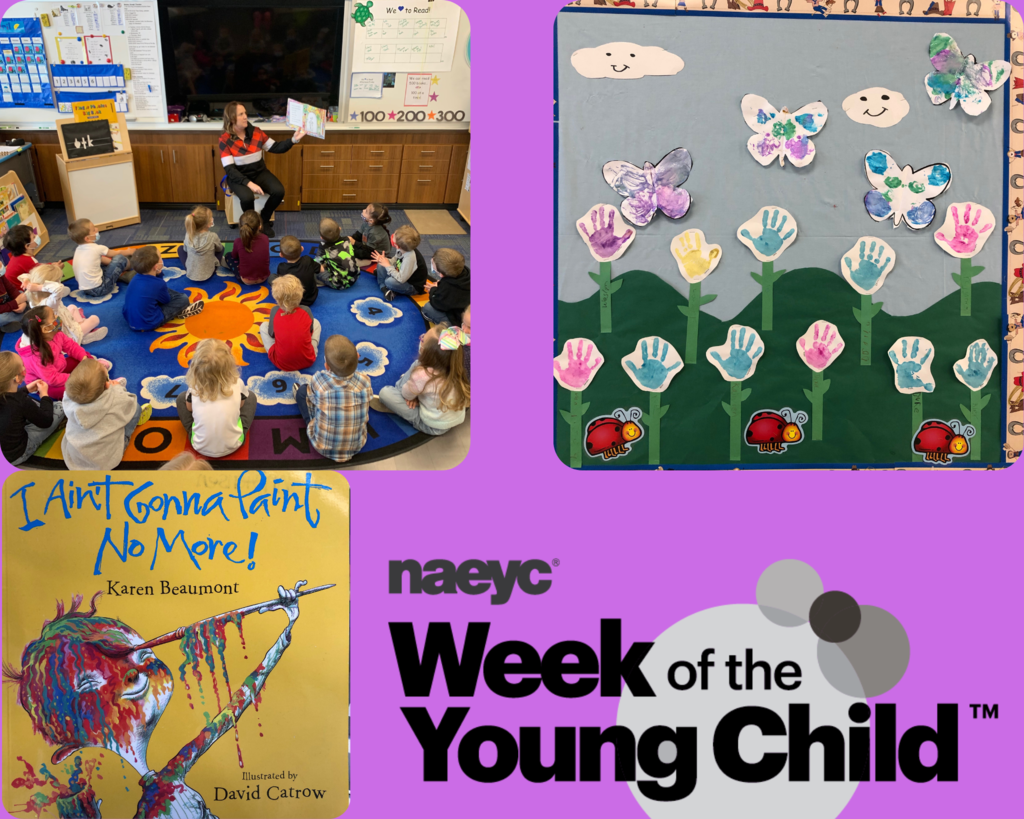 The 5th graders are spending the last few weeks in Library learning about coding, building circuits, and programing arduinos. This class made traffic lights yesterday. Looks like they are starting to get the hang of it!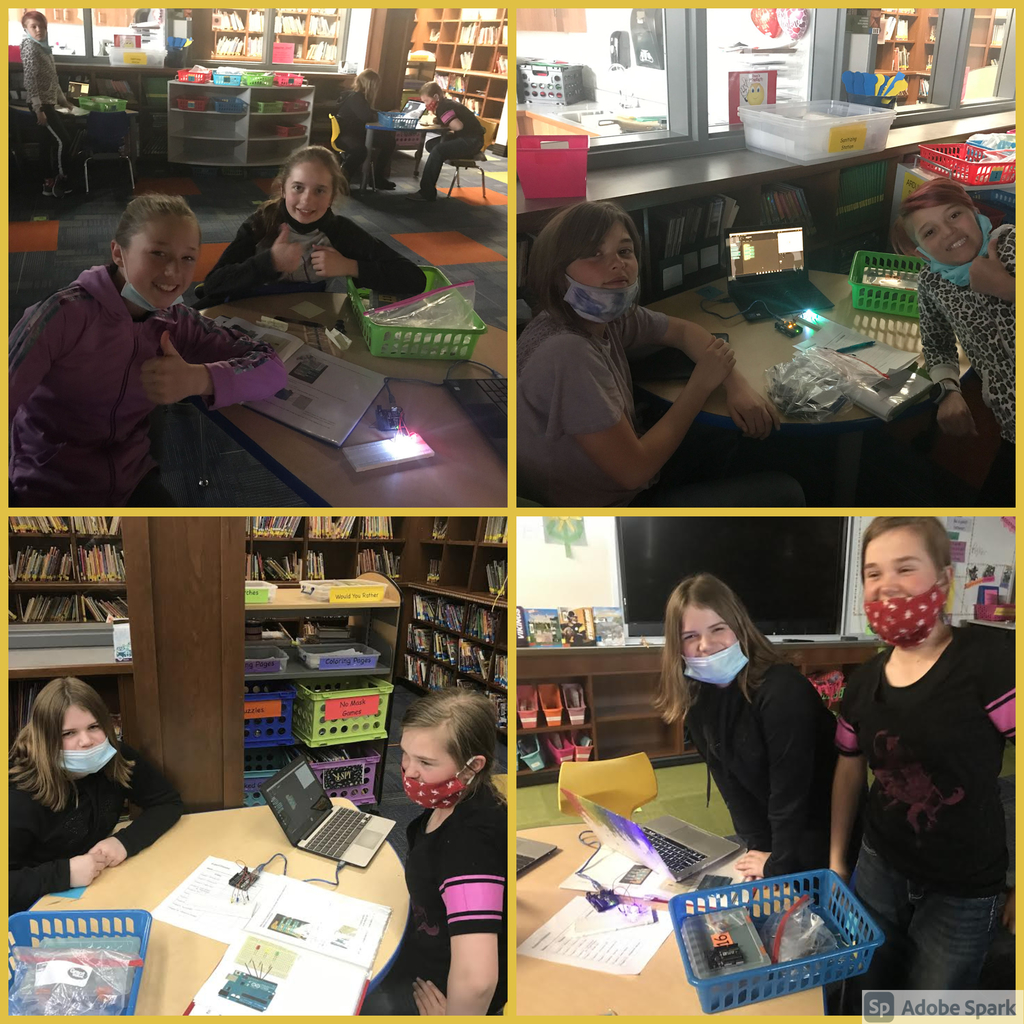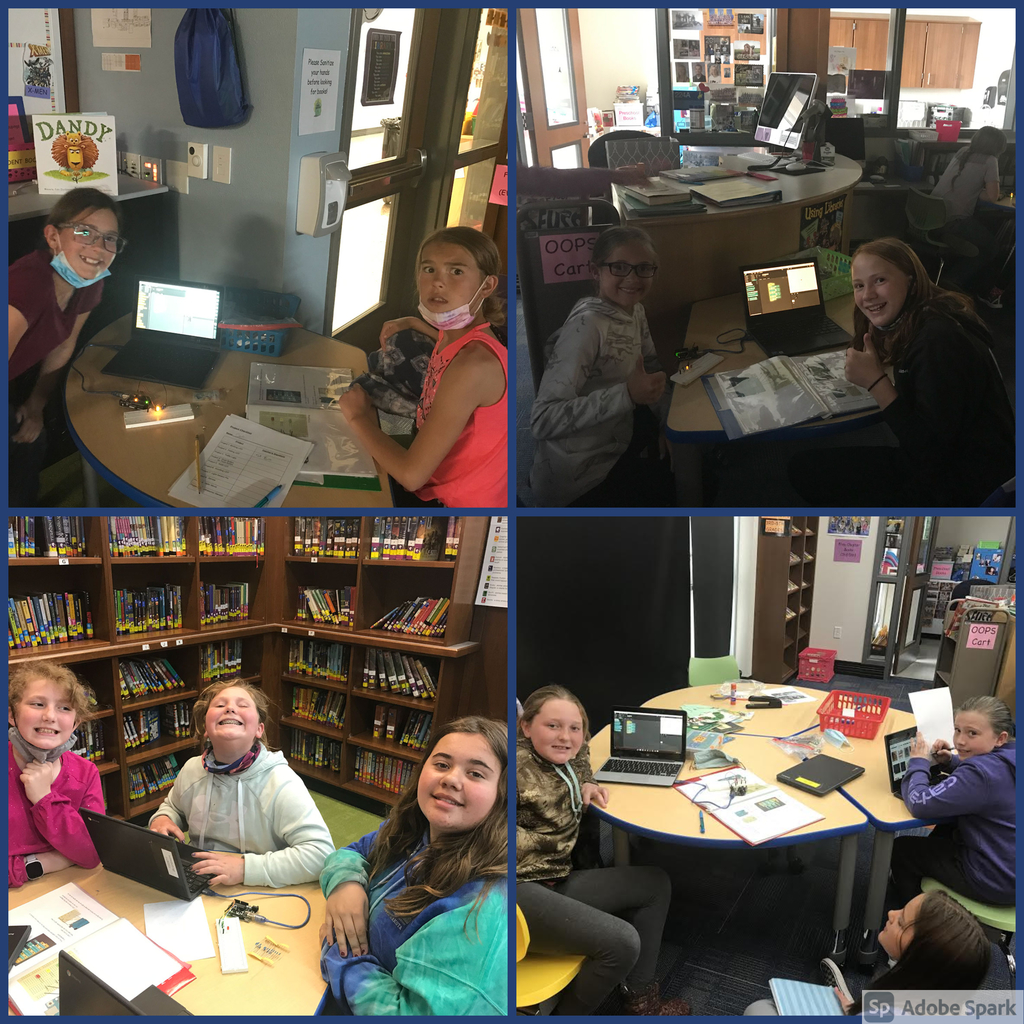 Work Together Wednesday!! Shoshoni Early Learning Center students continue to celebrate the Week of the Young Child with working together! Today, the students were put into teams and given a floor puzzle challenge! They had a great time building new puzzles, and were so proud of the finished products! The skills that young children learn from working together are key to school success!

The high school greenhouse management class spent some time this week as teachers for two classes of elementary science students. Mrs. Jarvis and Mr. Ballou teamed up to provide some opportunities for each group of students to grow in their understanding of plant production. Mrs. Jarvis provided three science standards that included the plant life cycle, variation and inheritance, and planting zones and climate. The high schoolers then used these as their guide to teach the younger students by using the greenhouse plants, and their experiences in the class, to provide a more place based learning opportunity.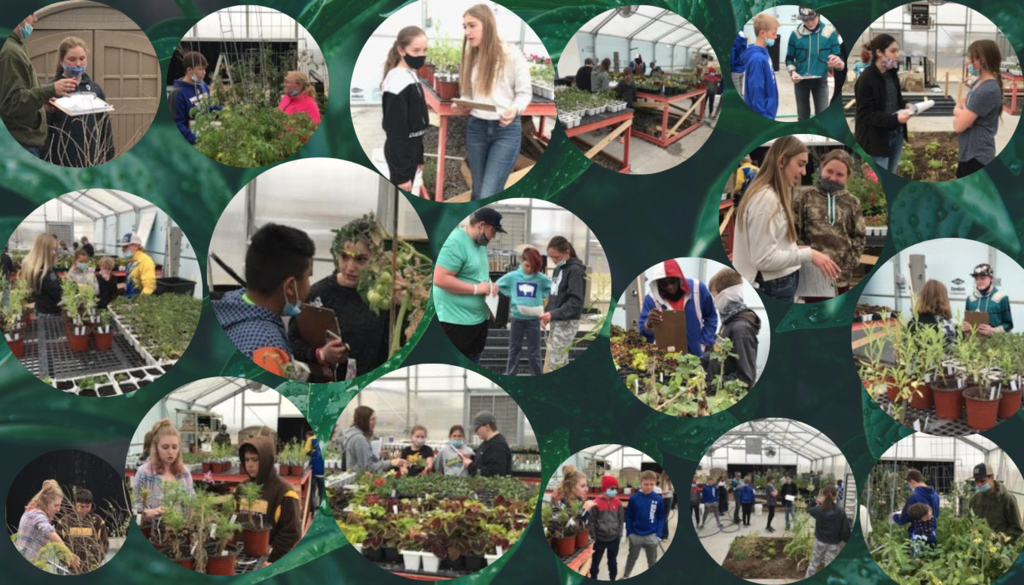 Shoshoni Early Learning Center celebrated The Week of the Young Child with Tasty Tuesday! They enjoyed Chicka Chicka Boom Boom and then made some tasty trees with bananas, grapes, and apples! Students learned about the letter t and enjoyed a visit to the 2nd grade classroom to see the tortoise.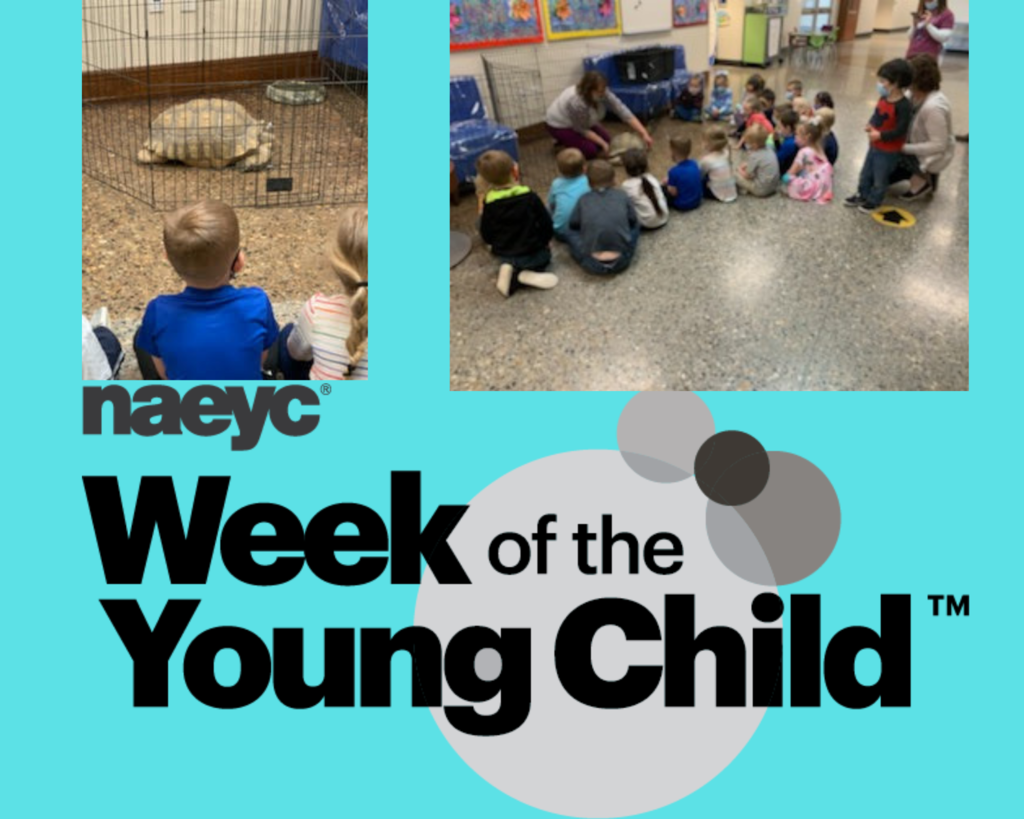 Shoshoni Little Wranglers Preschool Students are celebrating The Week of the Young Child. Music Monday was celebrated with making plastic egg maracas. This was a great opportunity to incorporate counting, and meaningful connections to learn the letter e. The celebration even included a musical parade to show off their maracas!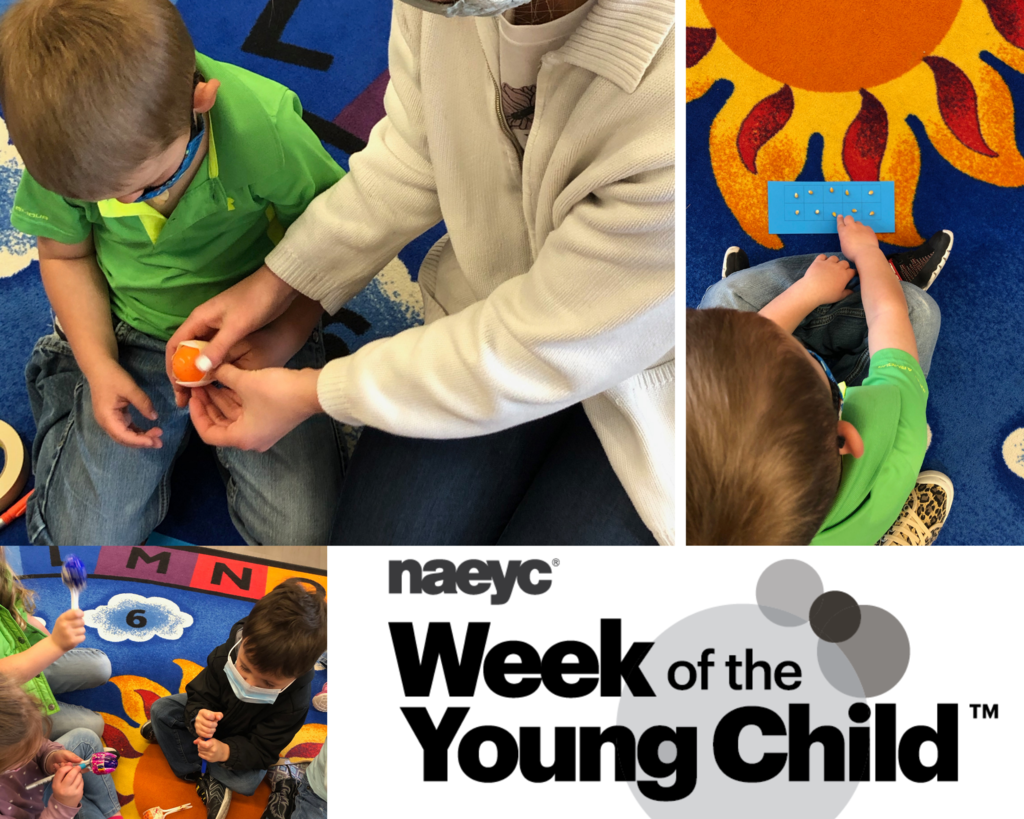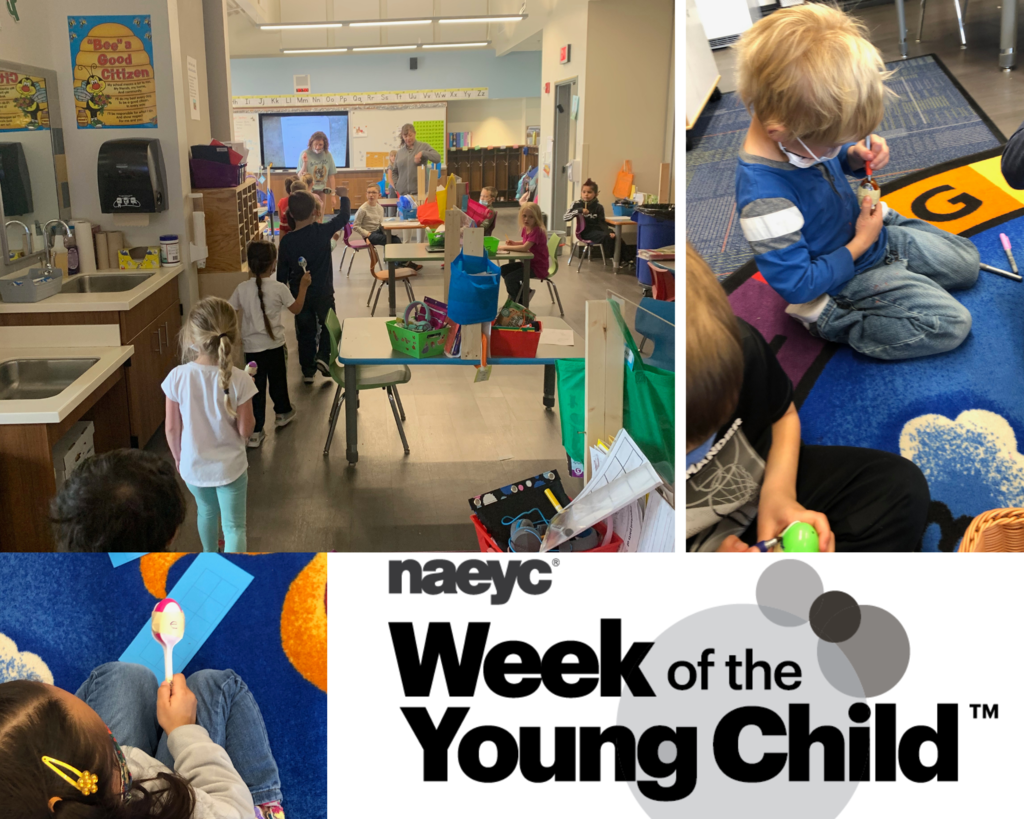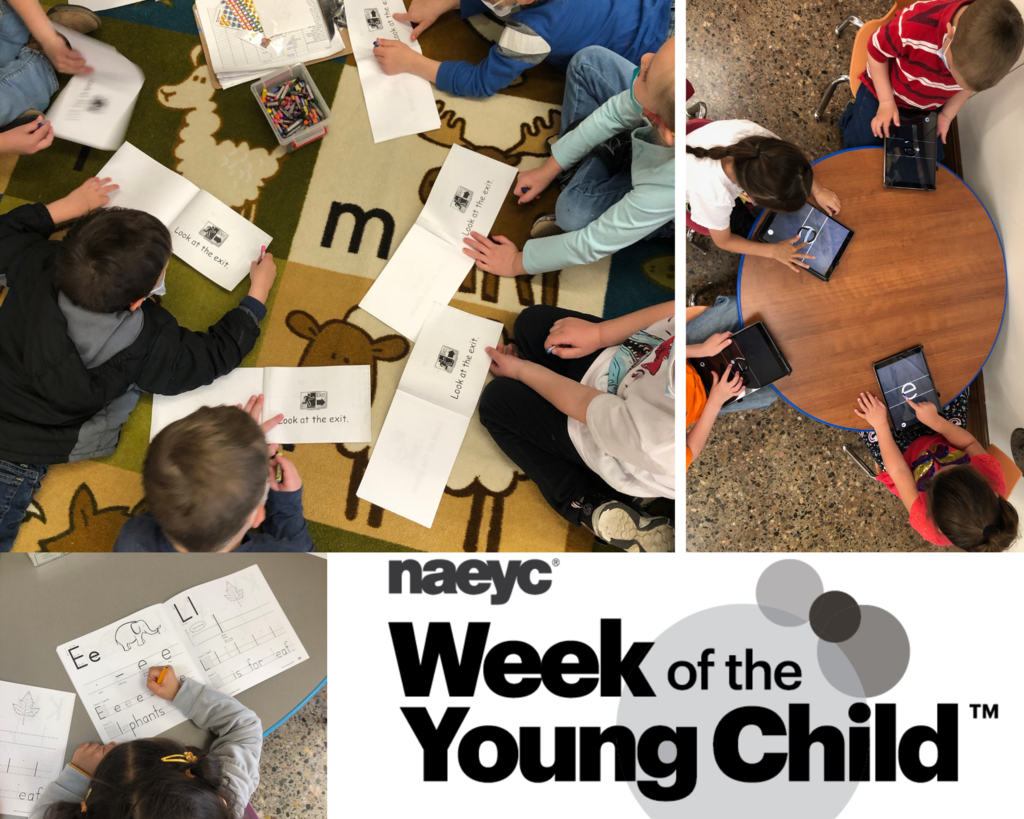 Please come out and support our students. We have lots of tickets left and a wonderful beef in mushroom sauce for dinner. This year will the play will take place all around the school as we tour many of Poe's famous stories.