Keep up on dates for meetings and events offered through the SRD and print your registration paperwork on their website.
Upcoming Events:
Kinder Kamp
DATES: Thursdays
Starting November 7th
We will inform you ahead of time of
cancellations.
TIME: 2:30pm-3:30pm
LOCATION: SRD Building
AGES: Pre-School and under
COST: FREE
A parent or guardian must be present, and we encourage their participation!!!
January
Coyote Hunt
DATE: Saturday, January 4th
TIME: Sunset to Dusk
LOCATION: Fremont County
AGES: 9 and older (9-18 must be accompanied by an adult)
COST: $60.00 per team, $5.00 for mangiest mutt
Rules and Regulations are in the registration link.

Kids Paint Night with Artisan Alley
WHEN: Friday, January 17th
TIME: 6:00pm to 8:30pm
WHERE: Shoshoni Recreation Building. 97 S. Maple St. Shoshoni, WY 82649
AGE: 5 - 16
Minimum: 15 participants
COST: $25.00 plus tax
To register go to www.artisanalley307.com
Please contact Artisan Alley with any questions.
(307)265-0991

Professional Development Day: Jump into the Past
When: Monday, January 20th
Where: SRD Building
Age: Pre-K-12th
Cost: $10.00
Time: 8:00am to 4:00pm
Limit: 26
Deadline: Wednesday, January 15th

Board Meeting at SRD January 27th, 2020 6PM
February
Cross Country Skiing-Wood River Valley Ski Touring Park in Meeteetse
DATE: Saturday, February 1st
TIME: 8:00am-5:00pm
LOCATION: Meet at the SRD Building
COST: $20.00 per person with equipment rental
$15.00 without a rental.
AGES: 4 years old and above to ride in SRD vans. Under 12 must be accompanied by an adult. Please let us know if you will be taking your own personal vehicle.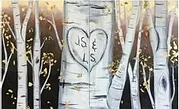 Adult Paint Night with Artisan Alley

WHEN: Friday, February 7th
TIME: 6:00pm to 8:30pm
WHERE: Shoshoni Recreation Building. 97 S. Maple St. Shoshoni, WY 82649
AGE: 21 and older
LIMIT: 50 participants
COST: $35.00 + tax participant (Please have reservations and payment in no later than Monday, February 3rd)
To register:
Please call Artisan Alley
(307)265-0991
SHOSHONI RECREATION DISTRICT #24